say hello to
miss screwed up
.
that is me.
ach mein gott!!!
i NEARLY missed my ugc final paper! FREAKING HELL! it would prolly cost me a heart attack if my heart wasn't as strong
as steel
. heh. quoting stalin over there. the word 'nearly' has a new meaning to me. never will i underestimate my dumb-ness. ever again. it will be the last time i'll pull such a stunt! even if i'm not aware of it. like just now..
IDIOT!
the scenario
had this impression that the paper starts at noon. even had it stored in my handphone! wakes up around 9-ish. laze around. oblivious to what's in store. clearly. what an oxymoron!
at approximately 9.50-ish, wakes up. switched on the computer. went to the student portal. had the time to read the student council's mail regarding the need for orientation leaders. heh. went to the e-board. had a MAJOR FREAK OUT!!! it says:
BAC-UGC112, BSCBA: EXAM 10.00AM - 12.00PM RM3.01
followed by, 'WTF!' x100. scrambled like a headless chicken. got ready in a world record timing of 5 minutes. again, i learn something today. the importance of deodorant. never underestimate it. n.e.v.e.r. continuing with the story.. hopped into a cab. managed to flag one asap. halfway through, ransacked my bag to realise [sound effect please] JENG JENG JENG! i didn't bring my wallet. for real. it's not even funny. we made a u-turn. wasted like 10 minutes. i was on the verge of a nervous breakdown. i prayed to God. PLEASE HELP ME!!! the cabby was sweet enough to speed it up abit. thank you soo much pak cik! i owe you one. hopefully the 1+ dollar tip was worth it.
i made it in time. how? God. with my mum's prayers. mine. the cab driver's excellent driving. come to think of it.. he was really good at calming me down. i kept saying, "saye dah lambat cik' to him and he was all,
what's cooler than being cool? ice cold!
(trivia for sham. guess the song people!) but not in a bo chap kinda way. it felt like 'i will get you there in time'!
i entered at 10.29am. i am not exaggerating. 1 minute away from being allowed for the exam. big PHEW!
i have been myspacemusic-hopping. my my.. i found loads of kick-ass bands. a spew of bands from viva le france. oui, oui! mima will be oh-so-proud. and so would mr one dollar. heh. it's addictive! i found a really cool band i fancy called nervous cabaret. the lead looks like a pirate!
see.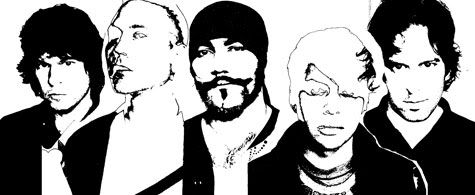 this song ALWAYS gets to me.
always.
you are here so am i
maybe millions of people go by
but they all disappear from view

and i only have eyes for you